Belfast International Airport: Date set for Aer Lingus case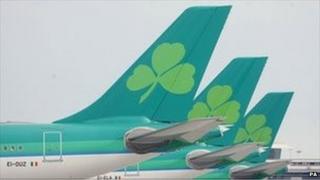 A £20m legal action involving Aer Lingus and Belfast International Airport is due to be heard in April.
The airport is suing Aer Lingus, alleging beach of contract after the airline's early termination of a 10-year operating deal.
The case, first reported in the Irish News, was mentioned briefly at the High Court in Belfast on Monday.
A hearing was set for 14 April with a progress review to take place on 9 January.
Aer Lingus signed the 10-year contract in 2007 but moved its business to Belfast City Airport in 2012.
The airline strenuously denies liability.
At the time the Dublin-based carrier was midway through a 10-year deal to fly from Aldergrove.
However, it terminated the arrangement early, moving instead to the City Airport to begin daily flights to London Heathrow and Gatwick.
It followed the closure of the BMI Baby service at the City, which carried 400,000 passengers a year.
When the switch was announced, Aer Lingus said it was a commercial decision to go to an airport with a "strong history of business flying".
Belfast International claimed the airline had been offered "an implausibly low deal on charges" to transfer its operation.
A lawyer for Belfast International confirmed on Monday that preparations were "well advanced".
She added: "The plaintiff has also obtained a forensic accountant. We hope to have his report available before the Christmas break."
Based on that update, the judge consented to the case being heard on April 14 next year.
A further review will take place in January to ensure sufficient progress.