Curry my yogurt row: Gregory Campbell accused of racism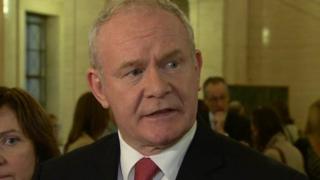 DUP MLA Gregory Campbell's parody of the Irish language "bordered on racist," Deputy First Minister Martin McGuinness has said.
Last week Mr Campbell began a question to the culture minister by saying: "Curry my yogurt, can coca coalyer."
The Irish sentence "Go raibh maith agat, Ceann Comhairle" translates as "Thank you, Speaker" and is used by nationalist MLAs in the chamber.
Mr McGuinness said some unionists had a hatred of the Irish language.
During Question Time in the assembly on Monday, he said there were "particularly among the unionist benches, people who have a terrible hatred of the Irish language - and a hatred of all things Irish".
He said this was "sad", because there were also unionists who were "progressive, and recognise that working together is the best way forward for all of us".
Mr Campbell was barred from addressing the assembly for a day last week for failing to apologise for his Irish language parody.