Jason McGovern death: Mark Donnelly denies hitting anyone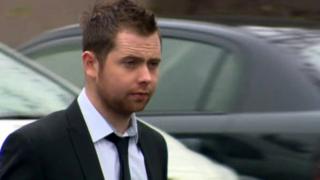 The man accused of killing County Monaghan teenager Jason McGovern broke down as he told a court that claims that he struck the fatal blow were "simply not true".
Mark Donnelly, 22, from Greencastle Road, Omagh, County Tyrone, denies manslaughter and affray.
He said that he did not strike anyone.
Mr McGovern, 19, from Tydavnet, was found dead at a friend's house after he was attacked in Omagh on New Year's Eve in 2012.
Dungannon Crown Court heard Mr McGovern had suffered a fractured skull and died as a result of bleeding in his brain.
A defence barrister asked Mr Donnelly about a witness who said she had seen him hitting a young man with "a thump on the head".
Mr Donnelly said in reply: "It's just simply not true. It's not true."
'Not true'
According to evidence given by a detective, Mr Donnelly had asked his girlfriend if she had washed the shirt he had been wearing on the night of the attack, after being arrested.
Mr Donnelly denied the claim saying it was "not true" and that he did not say anything.
During the first set of police interviews he gave a short statement and said he was advised by his solicitor to answer "no comment" to police questions.
He was asked why he did not mention an earlier incident outside the Terrace bar in Omagh, which was filmed on CCTV, and showed him raising an arm as a fight broke out.
He said: "I did not recall it. I simply did not remember.
"I raised my arm. It wasn't a punch. It was instinctive. I felt I was going to protect myself from anything coming my way."
He said he played no part in the fight outside the Terrace bar.
His barrister said: "The prosecution say you struck the blow that resulted in the death on Mr McGovern, what do you say?"
'Did not lie'
He broke down as he repeated: "That's not true."
The court was adjourned for a short time to allow Mr Donnelly time to compose himself.
Under cross examination later, he was asked why he had given "no comment" interviews to the police.
He said that was what his solicitor had advised and that a prepared statement contained all that he could recall about what happened.
In the statement, he told police that he had not seen the initial fight outside the Terrace Bar, but CCTV footage showed he was there.
"I didn't intentionally lie. That was not my intention. That was all that I could recall," he said.
He was asked again about the witness who said she had seen him punch Jason McGovern and the police officer who said he had asked his girlfriend if she had washed the shirt he had been wearing that night.
He said they "were making it up" and accused them of lying.
The prosecution lawyer said: "The person who has lied from the outset is you."
"No," he replied.
The trial continues.