Golden Gate Bridge jump survivor Kevin Hines at Belfast conference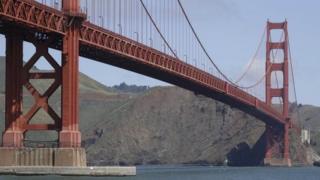 A leading mental health campaigner, who survived a jump from San Francisco's Golden Gate bridge, is in Belfast for a two-day suicide awareness conference.
Kevin Hines, who is bipolar, attempted to take his life by jumping off the bridge when he was 19.
Mr Hines, now a suicide prevention advocate, is one of just 34 people (less than 1%) who survived falling from the bridge.
He is addressing a conference organised by counselling charity Contact NI.
'Shocked into reality'
Speaking ahead of the conference in Belfast's Titanic Quarter, Mr Hines said jumping off the bridge was "an instant regret".
"The millisecond my hands left that rail, I thought, 'what have I just done? I don't want to die, God please save me', and then I hit the water," he said.
"You fall four seconds, you hit the water and get vacuum sucked down 70 or 80 ft - when I opened my eyes I was alive.
"All I desperately wanted to do was survive - suicide experts call this being 'shocked into reality'."
Mr Hines said the coastguard arrived at the scene quickly, thanks to a motorist who saw him jump in and rang for help, and that was not his only stroke of good fortune.
"In the water, something started brushing underneath me and bumping me up - I thought at first I was going to be eaten by a shark," he said.
"Later on, a man who saw me on a television show about suicide prevention got in contact to say he'd been there that day - he said it was a sea lion and the people above believed it was keeping you afloat until the coastguard arrived."
'Coping'
He said the message behind his presentation was to encourage people to seek the help that is available.
"Today is not tomorrow - just because you're having mental health struggles today, it doesn't mean you will for the rest of your life," he said.
"I live with chronic suicidal thoughts, bipolar disorder, paranoid delusions, auditory and visual hallucinations, depression, mania - I am able to cope with them because I know how.
"I use ten steps every day to stay mentally well - they include things like education into my disease, medication, exercise, proper sleeping and eating habits.
"Do not be quiet - stand up and get the help that you deserve."
On the first day of the conference, Northern Ireland Health Minister Jim Wells said suicide was "one of the biggest public health and societal challenges that we face".
"The suicide rate in Northern Ireland has climbed steadily from 1998 to 2007 and has remained relatively high since then, at around 280 deaths annually.
"It is estimated there have been over 7,000 suicides in Northern Ireland since 1970.
"Academics would conservatively estimate that each one of these deaths closely affects another six people. Therefore, over 40,000 people in Northern Ireland have been bereaved by suicide in the last 45 years."
He added: "I believe our investment in suicide prevention is saving lives.
"The situation would be much worse if these resources had not been made available and put to good use by community, voluntary and statutory agencies."