Cookstown globe trotting bag loved by thousands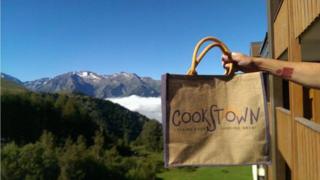 Forget designer labels, the Cookstown re-usable canvas bag is a globetrotter's dream.
On the outside, it may say "sensible brown shopper".
But insiders know it as a thing of beauty with a bad case of wanderlust.
From Sydney Opera House to the Valley of the Kings in Luxor to the ski slopes of the Alps, bag lovers all want a "selfie" with their Cookstown bag.
It is a craze that has propelled the small country town in County Tyrone on to the world stage.
There are photographs of the big bag perched elegantly on the Bridge of Sighs in Venice and luxuriating in the sunshine of Noosa beach, Australia.
When it comes to bags, the Cookstown reusable variety is a classy, well-travelled type.
The brown canvas shopping carrier has even been favoured by the ancient kings of Egypt - witness the photograph of the bag at the foot of a giant statue in Luxor.
You might even think Cookstown was a sunny spot, given the bright yellow sun painted on the bag.
But the council adapts and in winter, the "o" on the Cookstown logo switches to a little red Santa hat.
Whatever, the big brown jute bag has become the toast of the locals.
And you could say that the local council is struggling to get a handle on the wave of demand.
The idea of advertising the mid-Ulster town on a free bag was the brainchild of Cookstown District Council.
Lynn Shiels, the council's town strategy manager, said it all began back in 2012 when the council received funding from the Department for Social Development to promote the town.
"We wanted to reinforce our brand: 'Cookstown, looking good; looking great'," she said.
"At the same time, the bag levy was coming into force and we thought we'd help our traders out with bags.
"We got 10,000 of the bags, thinking we'd have enough to give out for two years, but they were gone in a matter of days."
And as word of the marvellous free jute bags got out, the demand continued to grow and the bag turned world traveller.
"The first picture we received was from a man standing in Dubai airport with our Cookstown bag over his arm," said Lynn.
"It started a craze and people started sending us pictures from all sorts of locations.
"We featured the pictures on our Facebook page - it was a case of 'Round and round the world we go'".
In all, 25,000 bags were made and 25,000 have been given out but the council is still getting requests for more.