Unemployment: Slight fall in NI dole queue numbers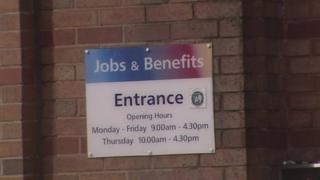 There has been a slight fall in the number of people claiming unemployment benefit in Northern Ireland.
According to the latest figures, there were 52,100 claimants during October, a reduction of 100 compared to September.
Enterprise Minister Arlene Foster said it was the 22nd consecutive month that the claimant count had fallen.
The unemployment rate also fell by 0.6 percentage points during the period from July to September 2014. It now stands at 6%, equalling the UK average.
'Encouraging'
The figure represents the lowest unemployment rate in Northern Ireland since the last quarter of 2009.
Mrs Foster said: "The decrease in the unemployment rate, alongside the continued decrease in the Northern Ireland claimant count is encouraging."
Over the last 22 months, the number of people claiming unemployment benefit in Northern Ireland has reduced by a total of 12,700.
During the last year, it went down by 8,700, which equates to a fall of 14.8%.
'Job creation'
However, in the UK as a whole the claimant count fall has been 28.6%.
In a statement, the enterprise minister said: "Northern Ireland has seen significant investment and job creation recently as a result of support from Invest NI for Northern Ireland businesses.
"In the first six months of 2014/15, Invest NI has promoted over 10,800 jobs and it is particularly encouraging that 52% of all new jobs promoted were by locally-owned businesses.
"We have also welcomed new investors to Northern Ireland including EY, Baker & McKenzie, Alexander Mann Solutions and SSE Airtricity.
"The Northern Ireland Executive has recognised the importance of growing the private sector in this way with a continued focus on export-led growth in the recent draft budget for 2015-16.
"In a very constrained public spending environment, this is welcome news," she added.