Jason McGovern death: Mark Donnelly found guilty of affray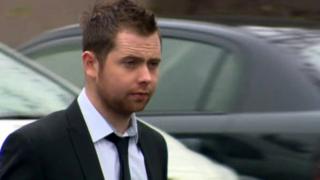 The man accused of killing County Monaghan teenager Jason McGovern in 2012 has been found guilty of affray.
The jury will return to Dungannon Crown Court on Thursday to deliberate whether Mark Donnelly, 22, of Greencastle Road, Omagh, County Tyrone, is guilty or not guilty of manslaughter.
Mr Donnelly denies manslaughter of Mr McGovern, 19, from Tydavnet.
Mr McGovern was found dead at a friend's house after he was attacked on New Year's Eve in Omagh.
He had suffered a fractured skull and died as a result of bleeding to his brain.
Witnesses said he was punched once and struck his head as he fell back to the ground.
Earlier, the jury was told by a judge that CCTV appeared to show Mr McGovern was the "peacemaker" the night he was attacked.
He also told jurors their judgement must not be clouded by sympathy for a young man with his life ahead of him.