Prison body search rules 'reviewed if threats end'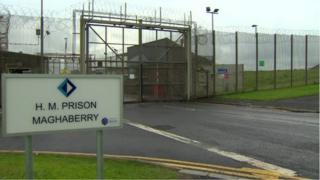 The prison service has said it will review the use of strip searching and relax controls on the movement of dissident republicans in Maghaberry prison, if threats against staff end.
Just over four years ago, the service and dissident republicans reached an agreement aimed at reducing tensions.
Independent assessors have said both sides have not implemented it.
The director general of the prison service said she fully supports the principles of that agreement.
However, Sue McAllister said intimidation of prison officers must end.
"That would be staff being threatened, explicitly threatened, on a daily basis on the landings," she said.
"We are clear that that must stop and that has to stop if any progress is to be made."
The prison service said it will continue to use full body searching until a reliable alternative can be found.
It has agreed to investigate the use of technology used by the prison service in the Republic of Ireland as a possible alternative to strip searching.
Implementation of the agreement would also mean a relaxation of strict controls on the movement of prisoners within the dissident republican wing.