Disappeared: Brendan Megraw remains brought home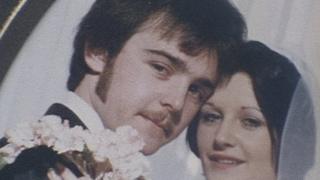 The remains of one of the IRA's 'Disappeared' victims have been brought to his home in Belfast 36 years after he was abducted and murdered.
Brendan Megraw's coffin was brought to his brother Kieran's house in the west of the city on Wednesday.
His body was returned six weeks after being found in a bog in County Meath, in the Republic of Ireland.
The Disappeared were people abducted, killed and secretly buried by the IRA in the 1970s.
Mr Megraw was 23 when he was abducted by the IRA from his home in the Twinbrook area of west Belfast in April, 1978.
The newly-wed was expecting the birth of a daughter when he was taken away by the IRA and killed.
'Feared'
Mr Megraw's funeral service will be held in Belfast on Friday.
On Wednesday, Kieran Megraw lit candles around his brother's coffin and spoke of a day he feared might never come.
"It's just tremendous to feel we now have him back home," he said.
"We always dreamed about it, thought about it, hoped and prayed for it."
Mr Megraw was found through the efforts of the Independent Commission for the Location of Victims Remains.
The commission, set up by the British and Irish governments in the wake of the Good Friday peace agreement, was tasked with investigating the cases of 16 people killed and secretly buried by republicans during the Troubles.
Secretly buried
Six victims are still to be found.
Last week the commission said it was mapping an area close to the same rural bog where Mr Megraw was found before beginning a search for another victim.
Specialist forensic investigators are scanning sections of land in the locality of the Oristown bog with radar in advance of a search for the remains of former west Belfast monk Joe Lynskey.
Mr Lynskey went missing in 1972 but it was only in 2010 that the IRA finally admitted to killing and secretly burying him.
It is suspected two more of the disappeared - Kevin McKee and Seamus Wright - are buried in moorland only a few miles from the Oristown bog in an area near Wilkinstown, Co Meath.