Cloughmills crash: Call for school transport review publication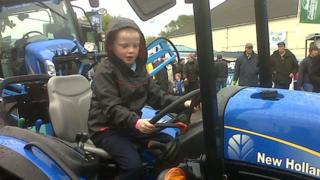 A review of school bus provision must be published after an eight-year-old boy was killed in County Antrim, an MLA has said.
Adam Gilmour died after his mother and her six children were knocked down as they walked to meet a school bus at Cloughmills on Tuesday.
Stormont education committee chairman Danny Kinahan said the review was given to the education minister in August.
The Department of Education said it was "a complex report".
Mr Kinahan said it should be brought before the education and the main assembly to be discussed.
'Wide-ranging'
"If you look at its terms of reference, it covers every single aspect of transport," he said.
"It is wide-ranging, we now need to get it there to make sure something like this never happens again and we need flexibility in the system to allow people to make decisions."
Transport consultant Dr Sian Thornthwaite was appointed last December by Education Minister John O'Dowd to lead the first independent review of the home to school transport policy since 1996.
The Department of Education said the final review, presented to the minister at the end of the summer, "was a complex report and he was taking time to consider its recommendations".
It added: "Any changes to school transport provision will have to go out to public consultation before final decisions are made."
Adam's grandmother, Marlene Hanna, has blamed the North Eastern Education and Library Board (NEELB) for not providing a bus to take them to school.
The bus leaves some of the children home but does not pick them up there.
MLA Jim Allister said on Tuesday that he wrote to NEELB on behalf of the children's mother, after she complained that the education authority "refused" to provide school transport to collect her children closer to their home.
Adam's grandmother, Marlene Hanna, said: "I full and totally, 101%, blame the education board."
In a statement, the NEELB confirmed that it had received correspondence from Mr Allister and had "been reviewing transport provision in the Cloughmills area".
The education minister said he has asked his officials to seek a report from NEELB.
In response to a question from BBC News Online about why the children could not be picked up by the school bus in the morning from their home, a spokeswoman for the NEELB said that the board was preparing a report on the incident and it would be inappropriate to comment further at this time.