Jason McGovern trial: Jury fails to reach verdict on manslaughter charge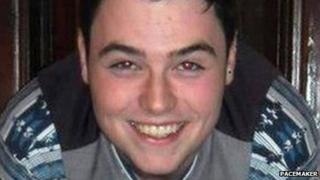 The jury in the trial of a man accused of the manslaughter of County Monaghan teenager Jason McGovern has failed to reach a verdict.
Mr McGovern was found dead at a friend's house after he was attacked on New Year's Eve 2012 in Omagh.
Mark Donnelly, 22, from Greencastle Road, Omagh, County Tyrone, was accused of manslaughter.
After more than four hours of deliberations, the jury reached a stalemate and has been discharged.
The jury had been asked if they had reached a verdict on which at least nine of the 10 jurors could agree.
The jury foreman told the court that no further time would resolve the stalemate.
A decision will be made on Friday if there will be a retrial.
Friends and family of both Mr McGovern and Mr Donnelly were seen crying in the public gallery at the end of the two-week trial.