Stephen Brimstone, DUP, 'not out to offend Jenny Palmer'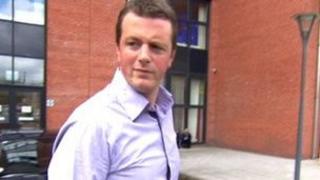 A DUP special adviser has said he "never set out to cause offence" to a party colleague who claims he asked her to change her vote at a Housing Executive board meeting.
Stephen Brimstone is an adviser in the Department for Social Development.
He was giving evidence to MLAs at a Stormont committee on Thursday.
It is investigating allegations made in a BBC Spotlight programme about political interference in the Housing Executive in Northern Ireland.
Jenny Palmer, a DUP councillor in Lisburn, had claimed that Mr Brimstone had telephoned her to change her vote at a Housing Executive board meeting.
At the time, the board was considering the termination of a maintenance contract by the firm, Red Sky.
Previously Mrs Palmer told the Social Development committee that Mr Brimstone became aggressive when she told him she could not agree to his request.
On Thursday, Mr Brimstone told the committee that he did not "believe" he had asked Mrs Palmer to change her vote.
"I want to be careful that I don't get into the internal workings of the party, but I'm quite content to make it clear that I never set out to cause anyone any offence or discomfort," he said.
"Any distress that was caused, I apologised for."
Sinn Féin MLA Fra Mc Cann said he found it difficult to accept that Mrs Palmer's and Mr Brimstone's version of events were so different.
Mr McCann said he could not get his "head around it".
Mr Brimstone was also asked by the TUV MLA Jim Allister whether he attended a party meeting at which Mrs Palmer was present.
He replied that he "was not prepared to comment on internal party discussions".
He confirmed that he was interviewed as part of a fact-finding operation by the Department of Finance and Personnel (DFP).
However, he said he was not prepared to get into "any detail".
The former DSD minster, Nelson McCausland, was also questioned about the report compiled by the Department of Finance.
He told MLAs he would not comment on the DFP fact-finding investigation.
"I took legal advice from the attorney general in this matter and I acted on his advice, and I am not going to comment on a personnel matter, that would be inappropriate," he said.
During the evidence session, DUP MLA Gregory Campbell criticised the way Mr Brimstone was questioned by the TUV MLA Jim Allister. He claimed Mr Allister was "badgering a witness".
At the hearing, Mr Campbell also criticised representatives from the BBC for not appearing before the committee.