Googled Irish leaves language lovers speechless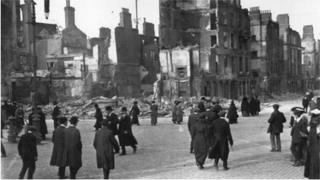 An Irish government website marking the centenary of the 1916 Rising has left language lovers speechless.
The site marking 100 years since the Easter Rising carried text in the Irish language straight out of Google Translate.
Native speakers called the results "nonsensical".
Several excerpts contained basic mistakes in the translation from English into Irish.
A spokesperson for the Department of Arts, Heritage and the Gaeltacht confirmed that Google Translate had been used.
The spokesperson said the mistake happened because the government department sent the English text to an external company that was contracted to design the website.
That company used Google Translate to get a draft, or holding version of the Irish text to appear on the page to see how much space it would require, thus enabling the company to design around it.
It should have been replaced by the official Irish translation that was later supplied by the department, the spokesperson said.
This did not happen when the website first went live, but the offending text has now been removed and replaced by the official and correct Irish version.
The Easter Rising rebellion began on 24 April 1916, but ended after six days of fighting, and most of its leaders were executed.
It cost the lives of 450 people - more than half of whom were civilians - and resulted in widespread destruction of much of the Irish capital's inner city.
The Easter Rising was defeated by the British forces within days, but the execution of 15 rebel leaders who survived the fighting roused public sympathy for their cause.
The event is widely viewed as the catalyst for the Irish War of Independence two years later, which was followed by the partition of Ireland and the establishment of the Irish free state.