Niall Ó Donnghaile seeks apology over BBC Nolan Show 'abuse'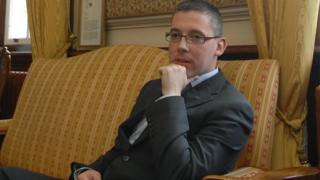 A Sinn Féin councillor has accused the BBC of "showing disrespect" to the Irish language community.
Niall Ó Donnghaile has written to the corporation to complain about the "abuse" of Irish on the Nolan Show.
He appeared on Wednesday's TV programme to discuss an Irish language parody by DUP MP Gregory Campbell.
But Mr Ó Donnghaile said the "offensive remarks were repeated ad nauseam in order to get a cheap laugh" on the Nolan Show.
A row erupted last Tuesday after Mr Campbell began his address to the assembly with: "Curry my yoghurt can coca coalyer".
The Irish sentence "go raibh maith agat, Ceann Comhairle" translates as "thank you, Speaker" and is used by nationalist MLAs in the chamber.
Mr Ó Donnghaile said he had agreed to appear on the Nolan Show following Mr Campbell's comments.
But he said: "The disrespect shown to me and the Irish language community on BBC's the Nolan TV Show on November 5 was totally unacceptable."
He said the repetition of the remarks "bordered on racist baiting".
"Such provocative behaviour is unacceptable," he said.
"This was an insult to me and to an entire community and I don't think this would be acceptable in any other area in which the BBC operates.
"The BBC needs to state clearly whether it has a different standard for Irish language speakers than any other racial, ethnic or linguistic group."
A BBC spokesperson said: "We have just received Mr Ó Donnghaile's correspondence and we will reply in due course.
"We reject any suggestion the discussion on The Nolan Show was racist."
Mr Campbell was barred from addressing the Northern Ireland Assembly for a day for failing to apologise for the parody.
The Speaker said his conduct fell "well short of standards expected from MLAs".