Theresa Villiers says Northern Ireland talks pace has increased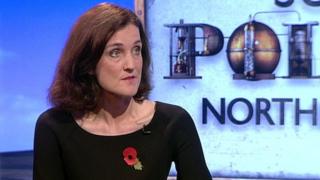 The Northern Ireland Secretary has said there has been a "significant increase" in the pace of the inter-party talks.
Theresa Villiers was speaking at the end of two days of meetings between the parties at Stormont House.
The talks are aimed at finding a way forward on a range of unresolved issues, but on Thursday the discussions focused on welfare reform and finance.
The Northern Ireland Office circulated two papers around the parties, which posed questions to them.
The document on welfare reform said the process for Stormont to legislate for changes to welfare could take about 15 months and needed to begin "soon".
It also stated that Northern Ireland could choose to maintain a system based on that in the rest of the UK "with adjustments to reflect local circumstances".
It said a potential package of measures had been identified.
These included the removal of some of the sanctions applied in the rest of the UK, Stormont-funded compensation payments for tenants impacted by the removal of the "spare room subsidy" and a "contingency fund" to provide support for people badly affected by welfare reform.
The paper on finance said that the executive might have to make further savings of around £700m a year by 2018-19.
It stated that if the number of government departments was to be reduced after the 2016 assembly election, the number, name and functions of the departments had to be agreed before Christmas this year.
It also said views varied across the parties on measures to raise revenue.
The talks will continue next week.