Mike Nesbitt will not be Westminster candidate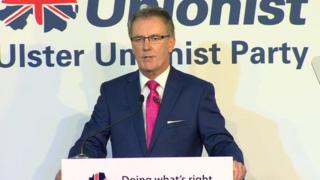 Ulster Unionist leader Mike Nesbitt has said he will not be a candidate in next year's Westminster election.
There had been speculation that Mr Nesbitt - who is an MLA for Strangford - would stand in South or East Belfast.
Mr Nesbitt also confirmed that his wife Lynda Bryans will not be standing.
"The soundings I've taken to date with senior members, including party officers, is that they'd rather have me leading the party here at Stormont than competing to be an MP," he said.
Speaking on BBC programme, The View, he said: "Linda may stand at some point in the future, but today I think she's content to honour her commitments to Belfast Metropolitan College and is not going to be standing for Westminster."
Mr Nesbitt, a former broadcaster, was elected as UUP party leader in March 2012.
He stood for election in the 2010 Westminster election in Strangford, but lost to the DUP's Jim Shannon.