Perry Clements jailed for £32,000 fraud of Linfield supporters club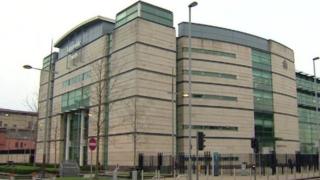 A former bookkeeper of Newtownabbey Linfield Supporters Club who admitted transferring £32,642 from the club's accounts into his own has been sent to prison.
Perry Clements, 37, from Green End in Newtownabbey, County Antrim, pleaded guilty to a single count of fraud by abuse of position.
Belfast Crown Court heard he admitted transferring money from 13 October 2009 to 25 March, 2011.
Clements has since paid it all back.
Clements was given a 12-month sentence - half of which will be spent in custody with the remaining six months spent on licence upon his release.
A Crown prosecutor told the court that at the time of the offending, Clements was the bookkeeper of First Newtownabbey Linfield Supporters Club and was therefore entitled to a wage, which he received. However, on top of his wages, he made a series of further transactions.
He said: "A system of BACS payments was introduced and it appears that this man transferred money from the club's bank account into his own bank account in relatively small amounts over a period of time."
The court heard the offending was discovered when the club's accountants raised concerns about a significant increase in staff costs.
He said that when the offending came to light, club officials called to the defendant's home, and that Clements "immediately admitted what he had done".
The lawyer added: "He didn't know how much he had taken but immediately made arrangements to pay back £20,000, which is more than what he thought he had taken." He said all the money has now been repaid.
Gambling
A defence barrister said that since leaving school at 17, Clements has been in constant employment, which has included positions as a cashier in a bank and a credit control operator. He said Clements had no criminal convictions.
He said that Clements "liked to gamble" but that "in and around 2010 it became more serious".
The lawyer added: "In order to finance it, he initially took money from the club, very foolishly, in the hope that he would be able to pay it back. After that, it got out of control."
He also told the court that Clements - who has sought help and no longer gambles - was remorseful and "is not going to come back before the courts".
Passing sentence, the judge told Clements that his role as bookkeeper meant he was in a position of trust and that in the club he was treated "not just as an employee, but as a friend and member of the club".
She also spoke of the impact Clements' breach of trust had on both the club and individuals within the club, especially the treasurer, who was "devastated" by the fraud. The treasurer had trusted Clements with a password that gave him access to the club's accounts.
The judge said that prior to the offending, Clements was "a person of impeccable character", but that he will "never be trusted to work with people's money again".