Kevin McDaid death: Judges cut man's affray jail term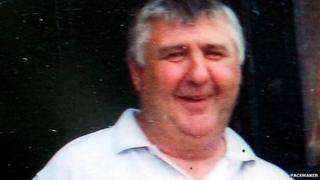 One of the men jailed in connection with the death of a Catholic community worker is to be released after winning an appeal against his sentence.
James McAfee was sentenced to three years for affray during confrontations that ended in Kevin McDaid collapsing and dying near his home in Coleraine, County Londonderry, in May 2009.
His term was cut to 12 months, but time served means he will be freed soon.
Nine men were jailed for a range of offences linked to the incident.
The jail sentences ranged from six months to eight and a half years.
'Bigoted sectarianism'
Senior judges dismissed co-defendant John Thompson's challenge to the total eight and a half-year sentence he received for offences including grievous bodily harm and actual bodily harm.
With mob violence having broken out in the Heights area of the town following an Old Firm football match between Rangers and Celtic, Lord Justice Coghlin said there was a need for deterrent punishments.
"The events that are the subject of these appeals had nothing whatsoever to do with sport and, at best, only the most perfunctory connection with politics," he said.
"The confrontation that took place at the car park to the rear of houses in Somerset Drive/Pates Lane was engendered by deep-seated bigoted sectarianism fuelled by alcohol and responding to perceived provocation.
"The repetition of 'turf or 'interface' violent confrontations between mobs styling themselves as either loyalist or nationalist is depressingly familiar as a phenomenon that has continued in this jurisdiction over the years to the present day."
'Arguably lenient'
Thompson, 34, formerly of Knocknougher Road, Macosquin, Coleraine, and McAfee, 33, once of Cloneen Drive in Ballymoney, had both pleaded guilty.
However, they appealed against their sentences, claiming they were manifestly excessive.
While judges accepted an error was made in equating DNA traces on a pickaxe handle with Thompson being an "active participant", they said his participation showed the power of a drunken sectarian mob.
Lord Justice Coghlin, sitting with Lord Justice Girvan and Mr Justice Horner, said the jail term imposed on him had been arguably lenient.
McAfee, who was not alleged to have carried out any assault, was a different case, the court held.
On available evidence his participation appeared less direct than that of another defendant who was "fortunate" to receive a suspended prison sentence, judges found.