£311k to send benefit claimants to financial advice charities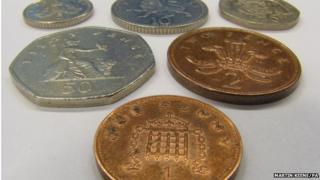 The Social Security Agency spent £311,000 on a scheme which told benefit claimants where they could get free advice on managing their money.
The scheme advised 544 claimants to seek advice on household budgeting from charities, but none did, according to government figures obtained by the BBC.
The Financial Support Service (FSS) was scrapped after a 13-week trial period.
The FSS successfully referred 29 people for debt advice, 87 for benefits reviews, and 252 for other advice.
The service was made available from three benefits offices in Northern Ireland: Omagh and Strabane in Country Tyrone, and the Falls Road in Belfast.
The aim was to help claimants manage their budget, deal with any debts and make sure they were accessing relevant benefits and services.
Under the scheme, 2,758 people were interviewed to assess their needs between 19 May and 15 August 2014.
Despite the low response to the government scheme, it comes at a time when advice charities are experiencing increasing demand.
Citizen's Advice saw a rise of approximately 6% of people accessing help from their offices in the past year. Demand for their online help doubled in that period.
Pól Callaghan of Citizens Advice said: "Our My Money service helped 484 people in a six month period to build their skills and confidence in managing their money."
Debt
The FSS identified 85 claimants as needing help with debt. They were "signposted" by the scheme towards two charities, Citizens Advice Bureau and Advice NI, for financial advice.
The vast majority, 56, "disengaged" from the processes, without seeking any advice, according to Department for Social Development (DSD) figures.
A further 19 attended a one-off appointment where they received basic debt advice.
Only 10 people received further debt support from the charities. Eight of them are still in debt.
Benefits assessment
Around 570 claimants were referred to the Benefits Entitlement Unit, to assess if they had the right to claim any other benefits.
So far, nine new claims with an annual total of £37,140.48, have been established as a result of the scheme's referrals.
Seventy-eight further claims are still pending.
Housing
The scheme also referred 205 people in need of advice on housing to the Northern Ireland Housing Executive and a housing advice charity. They were referred to discuss discretionary housing payments and issues relating to homelessness.
Forty-seven people were referred to other services for advice on non-financial issues, which may have included mental health, addiction, bereavement, and domestic violence.
Costs
The £311,000 was spent on administration costs.
"This spend covers initial set-up costs, the cost of the additional staff resource and the project team costs," said a DSD spokesperson.
Bob Stronge of the Northern Ireland Advice Services Consortium, which represents the charities that received the claimants' enquiries, said: "The advice sector received no remuneration in respect of preparing for, or delivering this service. We are committed to helping anyone in Northern Ireland who is experiencing budgeting or debt problems."