Mortgage fraud: Seven convicted over £1.5m scam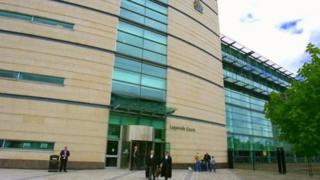 Seven people have been convicted for their involvement in a £1.5m mortgage fraud scam, police have said.
Detectives from the Police Service of Northern Ireland (PSNI) said that the scam was operated from 1995 to 2008.
Those convicted were: John Gaile, 52; John Hickey, 56; William Larmour, 63; Paul Gaile, 50; Lena Gaile, 49; Lee Paul Gaile, 29; and Kieran Gaile, 30.
They were sentenced in June but it could only now be reported due to restrictions.
This was due to the completion of other court proceedings.
The scam was largely centred around the north west of Northern Ireland, including Castlerock and Magilligan in County Londonderry.
John Gaile, Hickey and Larmour were sentenced on 18 June at Laganside Court for the scam which involved a total of 26 property deals.
Inflated purchase prices
Along with the four other co-accused, they pleaded guilty to a total of 76 charges including mortgage fraud and acquiring criminal property.
The police said that John Gaile, a businessman, set up the scam with members of his family and Hickey, a solicitor based in Coleraine, County Londonderry.
The scam involved applying for mortgages using inflated purchase prices.
The majority of the mortgages were obtained using the services of Larmour, an independent financial advisor in Holywood, County Down.
The police said that from September 1995 until April 2008, Gaile sold the properties, sometimes either to family members or Hickey.
He then took the profits from the sale or used it to fund another property.
The police added that financial investigators calculated the total value of the mortgages, subject to pleas entered in court, was over £1.5m.
'Struck off'
The total profit made by the seven defendants was more than £483,000 while the loss to lenders through repossessions was more than £557,000.
Det Con Sam Kinkaid said: "A number of the properties were sold amongst Gaile family members with the aim of continuing the scam and generating more profits.
"Hickey became part of the scam to defraud lenders and then used the system to buy properties himself. He has been struck off by the Law Society.
"Larmour's benefit was confined to the fees payable to him for processing the mortgage applications during a period in which he was part of the regulated financial sector.
"These fees were estimated to be approximately £5,000."
Last week, another defendant, Patrick Gaile, 51, of Brookmount Court, Coleraine, was found not guilty by a jury at Belfast Crown Court after standing trial on one count of obtaining a service by deception.