Northern Ireland pension age legislation passes assembly vote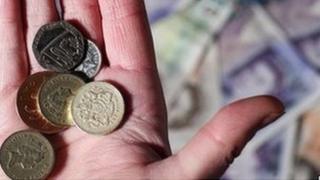 Legislation to raise the Northern Ireland state pension age to 67 by the year 2028 has passed its first vote in the assembly.
The proposed measures would bring Northern Ireland into line with the rest of the UK as legislation has already been passed at Westminster.
The law would bring in a new, simplified, single-tier pensions system in April 2016.
Under the existing scheme, the maximum basic state pension is £113.10 a week.
However, some people also get an additional pension payment on top of this.
Social Development Minister Mervyn Storey told MLAs that the full-rate new state pension will be no less than £148.35 per week.
But he said the exact level would be set in autumn of next year.
The new legislation means the state pension age would go up to 66 by 2020, and to 67 by 2028.
The change is being planned because of increased life expectancy.
The bill will also provide for pension pots to be automatically transferred when an employee moves between employers.
Mr Storey said: "In an ideal world, we would not want to raise the pension age.
"But equally, I think there is a consensus that pensions must be sustainable and fair across the generations."
Sinn Féin MLA Mickey Brady, who is vice-chair of the social development committee, said there would be "winners and losers" in the reform of the state pension system.
The committee will now examine the Pensions Bill before it is sent back to the assembly for another debate.
Pensions payments in Northern Ireland amount to a total £37m per week.