Nortel: Redundant workers 'entitled to £50k for unfair dismissal'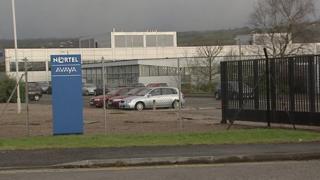 Staff who lost their jobs at the Nortel factory in County Antrim, are entitled to unfair dismissal payments of more than £50,000, a tribunal has ruled.
It follows a test case brought by a worker who claimed the Canadian firm failed to properly consult with each employee before making them redundant.
However it is not clear how much, if anything, will be paid out as the telecoms company is in administration.
The firm failed in 2009, resulting in 100 job losses in Northern Ireland.
Nortel's administrator will not contest the workers' claims that the firm failed to properly consult them.
In the test case, the worker involved was awarded £66,200 - and two subsequent cases have led to awards of £66,200 and £52,699.
Unsecured creditors
The tribunals heard that although the three redundant workers subsequently found new jobs, the work did not pay as well as Nortel.
The former employees now count as unsecured creditors of Nortel, so it is not clear when they will be paid or how much.
A case involving Nortel at the High Court in London in 2010 indicated that unsecured creditors could expect to be paid 12p for every £1 they are owed.
A group of workers, backed by the union Unite, are also expected to bring cases to the tribunal once it becomes clear if the final payout will make it worthwhile.