'Gay cake' row: Jimmy Spratt says case 'verging on bullying'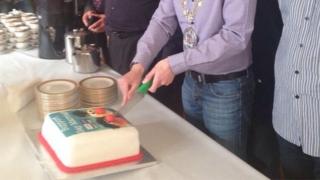 Many people believe the Equality Commission's civil case against a Christian-owned bakery is "verging on bullying", a DUP MLA has claimed.
Earlier this year, Ashers Baking Company refused to bake a cake with a pro-gay marriage slogan.
DUP MLA Jimmy Spratt was speaking during a Stormont committee hearing.
Equality Commissioner Michael Wardlow said while it took account of public opinion, it was not the key factor in deciding whether to bring a case.
Mr Spratt told Mr Wardlow that he believed the public perception of its civil case against the bakery was: "You're abusing public funds, that you're verging on bullying and some might even say persecution."
'Discriminatory act'
Speaking at the committee that scrutinises the Office of the First Minister and Deputy First Minister, Mr Wardlow said: "We're a public body, and public opinion may or may not approve actions that we take."
He added: "Of course we listen to what the public say, but that isn't the thing that determines whether a case is right or wrong.
"In this particular case if we didn't think a discriminatory act had taken place, we would not be taking it forward."
Mr Wardlow added: "We have a situation where there is equality legislation, and we have supported an individual who believes that under that equality legislation, he has been discriminated against."
DUP MLA Stephen Moutray said the commissioners ought to be "ashamed".
He accused the commission of using "a sledgehammer to crack a nut", and said that if it was a "David-and-Goliath situation", he hoped David would "come out top".
The row first emerged in July, when the baking company revealed it was facing possible legal action over its decision to decline the customer's request.
The cake had been ordered in Belfast by a gay activist two months earlier, for a civic event in Bangor, County Down, marking International Day Against Homophobia and Transphobia.
Ashers Baking Company said it had declined the request because it was "at odds" with its Christian beliefs.
In a letter sent to the bakery earlier this month, the Equality Commission said that unless the firm acknowledged there had been a breach in the equality laws and offered recompense, it would start legal proceedings.
It said the bakery's solicitors had replied that "their view remains unchanged" and their clients had not acted unlawfully.