Budget cuts: Department of Culture, Arts and Leisure warns of closures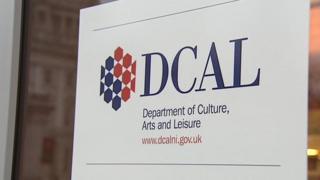 The Department of Culture, Arts and Leisure (DCAL) has indicated how it intends to save 10% of its annual budget next year.
A consultation paper warns the cuts could be severe enough to force the closure of some bodies.
The department looks after arts provision and also the sport and leisure sectors.
As part of widespread assembly cutbacks it has been told to trim its spending by 10% from £100m to £90m.
In a paper on its website it says a cut of this size means it is inevitable there will be a detrimental effect on frontline services.
Grants from the arts council will be reduced and it is acknowledged that will be so serious for some organisations they would have to close.
Libraries will have some protection, but are still likely to have to cut hours and spending on books.
That would be in addition temporary changes to opening hours announced earlier this month.
Museums would need to reduce the number of events and exhibitions and sports bodies would also have to make cutbacks.
Consultation on the plans ends on 29 December.
In a statement, DCAL Minister Carál Ní Chuilín said: "With the departmental baseline budget being reduced by 10% for the 2015-16 year there will inevitably be reduction in expenditure levels I will endeavour to ensure that frontline services are protected as far as possible.
"It is therefore important that people let their voices be heard and contribute in a positive and meaningful manner to this consultation."
Earlier this month, Finance Minister Simon Hamilton has said Stormont's 2015/16 budget is "rooted in tough choices".
The grant Northern Ireland gets from Westminster has been cut by 1.6%. However some departments will have to make savings of up to 11%.