PSNI cuts: Terry Spence describes plans to cut station opening hours as 'ludicrous'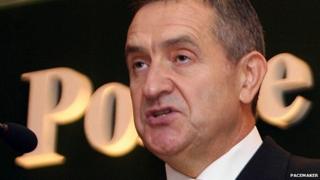 Plans to cut opening times at police stations across Northern Ireland are "ludicrous", the Police Federation has said.
There will be only two police stations with 24-hour enquiry desks as a result of PSNI cuts.
Musgrave Street in Belfast and Strand Road in Londonderry will be the only stations with 24-hour public access.
Others will open for a maximum of 12 hours a day. A number of custody suites will also be closed.
Chairman of the Police Federation Terry Spence said it will have a "detrimental impact,"he said.
"This is a ludicrous situation. A reduction in hours must necessarily mean a reduction in service, and that is to be regretted. In all but two stations, offices will close for up to half the day and that will have a detrimental impact.
'Erosion in confidence'
"People seeking help and guidance, or who want to speak to an officer directly at a police station, will be denied that access, and that will lead to an erosion in confidence.
"Have these cuts in the PSNI budget really got us to the point where we cannot maintain a 24/7 opening of stations?
"The service has tough and unpalatable decisions to make on the budget front, but shutting enquiry offices is not the way to go.
"The public needs the reassurance of an open door and this measure, which will save a paltry £250,000, is cutting a low-cost but high-profile service that delivers for the public," he added.
Assistant Chief Constable Stephen Martin said the move was part of ongoing efforts to make significant budget cuts.
'Time of need'
"It is important the public is reassured that any reduction in enquiry office opening hours does not mean a reduction in our service," he said.
"Policing remains a 24-hour, seven days a week operation and we will continue to be there at people's time of need.
"Police activities within stations will continue as normal and we can be contacted 24 hours a day on either 101 or for emergencies on 999."
He said it was anticipated that decreasing enquiry office opening hours would save up to £250,000 annually and up to £75,000 by the end of this financial year.