HIA: Rubane was 'toxic mix' of 'orphaned boys and streetwise boys'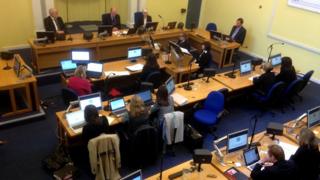 Orphans sent to a County Down home were exposed to abuse by boys who "came through the justice or welfare systems", a former resident told the Historical Institutional Abuse Inquiry.
He described a "toxic mix" of "orphaned boys and streetwise boys".
He said sexual activity at Rubane House was "very common" among boys.
But the man, now in his 50s, said his general experience at the Ards peninsula boys home had been "very, very good".
The witness was at Rubane in the late 1960s and early 1970s.
He told the enquiry he had been sexually abused by other boys.
'Abandoned'
He said: "I am not attaching blame to the brothers. I attach the blame to the system in respect that the state themselves took their eye off the ball and allowed this vulnerability and exposure to us at the age of 15."
Commenting on his departure from the home, which was run by De La Salle Brothers, he said: "I was ill-prepared, ill-equipped, uneducated going into society."
He said: "We were abandoned as part of society. The forgotten generation of society."
Background
The HIA inquiry was set up in 2013 to investigate child abuse in residential institutions in Northern Ireland over a 73-year period, up to 1995.
A total of 13 Northern Ireland institutions are being investigated.
The inquiry is currently examining alleged abuse at Rubane.
About 200 former residents have made allegations of abuse.
A total of 55 former residents have come forward to the inquiry to allege that they were physically or sexually abused.