Ballymena drugs treatment centre: Protesters hold meeting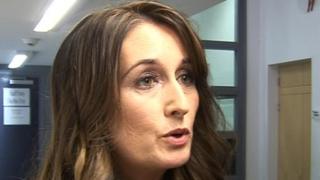 More than 100 people, including health professionals, have attended a protest meeting over the closure of a Ballymena drugs treatment centre.
The Railway Street drugs misuse service is to close due to a funding cut of more than £200,000 by the Department of Justice (DOJ).
The service has been described as a model of best practice in helping injecting drug users.
The drugs misuse service was partly paid for by the DOJ.
'Shortfall'
Stephanie Greenwood, of the trade union Unison, said the unit was set to close on 31 January.
"We are hoping to reverse that because the Northern Trust, which supplements that funding, cannot make up the shortfall," she said.
"We believe that it is a very short-sighted decision by the DOJ to close the facility. Those people engaged in that service need a full network of support.
"Within that unit they have a key worker. They link with GPs, pharmacies and the PSNI, the probation and the court system.
"Without that, the service users will disengage from those programmes."