Ex-boxer Christopher McLean jailed over 'one punch' killing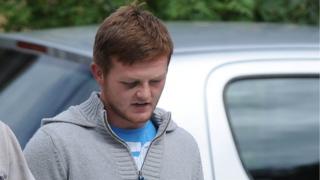 A former youth boxing champion has been jailed for 18 months for killing a man in a so-called single punch incident in Omagh, County Tyrone.
Christopher McLean, from Main Street, Gortin, had previously pleaded guilty to the manslaughter of Darren McBrearty outside a bar in Omagh in August 2013.
Witnesses described how Mr McBrearty fell backwards "like a plank" after being punched once by McLean.
They said as his victim fell, McLean clenched his fists and yelled "boom".
Mr McBrearty hit the back of his head on the ground, fracturing his skull and causing a brain injury that was to prove fatal.
The 28-year-old, who was from the Gortmore Park area of Omagh, died in hospital two days after the attack.
McLean was struck by the bar's doorman before running away from the scene, but was arrested later that night.
As he was sentenced at Dungannon Crown Court, a large group of the dead man's family and friends filled the public gallery, with others having to stand at the back of the court.
They heard a defence lawyer describe the event as "a tragedy for all concerned" which would have a "marked impact" on the remainder of his clients's life.
He said McLean, who was a national boxing champion as a youth, had displayed genuine remorse and accepted responsibility for his wrongdoing.
However, McLean still maintained that there was an element of self-defence to his actions.
"He felt he was going to be hit so he hit first," said the defence lawyer, adding that his client had used his left, non-dominant hand to hit Mr McBrearty.
Jailing him, the judge said it was clear that Mr McBrearty's parents and siblings would never recover from their loss.
She said the victim had been "respected and loved in equal measure" and that the use of force was disproportionate to any verbal dispute that may have occurred between the pair earlier in the evening.
However, she added that this was a single punch incident with no weapon involved, that McLean had pleaded guilty, that he had been just 18 at the time and that he had shown remorse.
In addition to his 18-month jail term, McLean will serve with a further two and a half years on licence for the killing.