Oscars: Boogaloo and Graham, and SLR in contention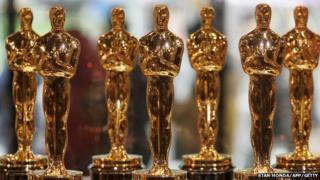 Two short films from Northern Ireland have a chance of winning an Oscar.
Boogaloo and Graham, and SLR have both been selected for the Live Action Short category that was won by the director Terry George for The Shore in 2012.
One hundred and forty one shorts qualified to be considered and 10 have now been selected for a "long list".
The Academy of Motion Pictures will choose between three and five of them to compete at the Oscars in February.
Boogaloo and Graham is about two young boys who discover the facts of life with the help of their pet chickens.
It stars Martin McCann and Charlene McKenna and was written by Ronan Blaney and directed by Michael Lennox.
SLR was written and directed by Stephen Fingleton and is a thriller about an amateur photographer.
Elliott, played by Liam Cunningham (Game of Thrones, Hunger), is obsessed with 'voyeur pornography' and after making a shocking discovery, is forced onto the trail of an anonymous photographer known only by his online username Anorak.