'Gay cake' row: MLA in equality law 'conscience clause'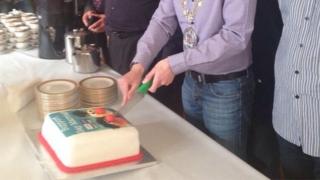 A DUP MLA has said he is planning to bring forward a private member's bill at Stormont to introduce a "conscience clause" into aspects of equality law.
It follows the Equality Commission's civil case against Ashers Baking Company after it refused to bake a cake with a pro-gay marriage slogan.
Paul Givan said he would launch a consultation on his bill, which he hoped would avoid similar legal cases.
"This clause will enhance equality legislation," he said.
"Equality is about ensuring that everybody in society is allowed to live out their lives.
"We now are heading towards a community where it's not just about live and let live - people are now saying, 'you need to affirm my particular lifestyle and if that goes against your conscience, you have to do that'.
"That's not equality; that's intolerance."
'Christian beliefs'
Last week, Equality Commissioner Michael Wardlow told a Stormont committee hearing: "In this particular case if we didn't think a discriminatory act had taken place, we would not be taking it forward."
He added: "We have a situation where there is equality legislation, and we have supported an individual who believes that under that equality legislation, he has been discriminated against."
The row first emerged in July, when the Christian-owned baking company revealed it was facing possible legal action over its decision to decline the customer's request.
The cake had been ordered in Belfast by a gay activist two months earlier, for a civic event in Bangor, County Down, marking International Day Against Homophobia and Transphobia.
Ashers Baking Company said it had declined the request because it was "at odds" with its Christian beliefs.
In a letter sent to the bakery earlier this month, the Equality Commission said that unless the firm acknowledged there had been a breach in the equality laws and offered recompense, it would start legal proceedings.
It said the bakery's solicitors had replied that "their view remains unchanged" and their clients had not acted unlawfully.