Asterix the Gael: Asterix and Tintin get Irish language translation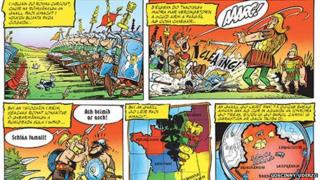 As well as defending their small corner of Gaul from the Roman Empire, Asterix and Obelix have also been conquering a new language.
The Asterix comics, published in 107 languages, are now also available in Irish.
Irish poet Gabriel Rosenstock teamed up with translator Antain Mac Lochlainn to translate Asterix in Gaul, and Asterix and the Golden Sickle into Irish.
Crime-fighting journalist Tintin, and his faithful dog Snowy, have also been given a Gaelic makeover in Cigars of the Pharaoh.
Asterix was first published in 1961, and the series has sold over 250 million copies around the world.
Much of the books' humour comes from word play, which makes it difficult to translate.
The publishers gave specific instructions on how names should be translated.
Dublin bus station
Mr Mac Lochlainn said: "The Roman characters, their names should end in 'us'. There was a bit of a challenge there, but we managed to come up with names that sound authentically Roman."
In the Irish version, one self-important Roman military character Labhrás Busáras shares his name with Dublin's unglamorous central bus station.
More than just the spoken text had to be changed. The sound effects that are included in the graphics needed to be translated too, and then applied to the imagery by an illustrator.
Alun Jones of niche publisher Dalen decided to seek permission to create the Irish language versions as part of a project to create versions in several minority languages.
Dalen already publish Asterix and Tintin titles in Scottish Gaelic, Cornish and Doric Scots, a European Union-recognised language of Scotland.
Mr Jones said that by printing several different language editions at the same time they could keep costs down and provide affordable books for the public.
He believes there is a small but important market for minority language publications.
Reprint
Unexpected demand meant that a second edition of the Scottish Gaelic version of Asterix had to be printed within four months.
"There are things in the Irish edition you won't find in any other edition. They are culturally relevant references, gems that only Irish readers will find," said Mr Jones.
Less than a week after the print run of 1,000 copies went on sale, Mr Jones said sales were "doing well".
Dalen plan to add an Irish translation of another Tintin title, The Crab with the Golden Claws, in 2015, and translators are also working on a couple of other Asterix titles.