Ulster Orchestra: Belfast City Council offers £100,000 for rescue plan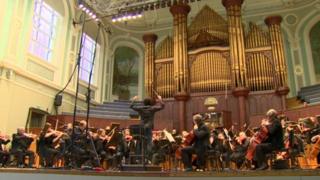 Belfast City Council has agreed to give £100,000 to the Ulster Orchestra, to help it out of its financial problems.
However, the offer is conditional on other funders also contributing to the orchestra's £500,000 shortfall.
Last month, the orchestra made a plea to the council, asking for the full £500,000. It warned it would face closure without emergency funding.
Belfast City Council rejected that request but has agreed a conditional offer of a fifth of that amount.
The offer will have to be approved at the next full council meeting.
On Friday, a meeting of the council's strategic policy and resources committee heard from the orchestra's management about the budget problems and also about a new business plan that is being negotiated.
The orchestra also asked the council to grant it free use of the Ulster Hall.
However, that decision must be made by the shadow committee for the new super council, which is due to take over in April.
It will meet next Friday and councillors said they were sympathetic to that request.
The deputy chair of the committee, Arder Carson, said the Ulster Orchestra had spoken of a shortfall next year of £850,000.
Mr Carson said any offer of money from Belfast City Council was conditional on the orchestra's future viability and sustainability.