IRA abuse allegations: Names 'put through Gerry Adams' letterbox'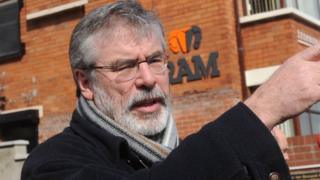 Sinn Fein leader Gerry Adams has said the names of alleged republican sex abusers were posted anonymously through his letterbox in Belfast.
Mr Adams said he gave the names to Meath Sinn Féin councillor Joe Reilly to pass onto the Irish police.
He said Mr Reilly had been designated to handle such responsibilities.
Mr Adams was speaking amid reports that Irish police are investigating reports that more than 30 alleged IRA sex offenders may be in the Republic.
Irish state broadcaster RTE said the investigation into the 30 names is being led by the police's domestic violence and sexual assault unit and the names have been passed to Tusla, the child and family agency.
Mr Adams said he expects Irish police to contact him about the information and that he will co-operate fully with them.
Meanwhile, Northern Ireland Justice Minister David Ford has ruled out any cross-border inquiry into IRA sex abuse allegations until other ongoing investigations are completed.
Mr Ford said discussions on an all-Ireland probe had taken place with his Irish counterpart Frances Fitzgerald.
Ms Fitzgerald indicated such a move was under consideration.
In Northern Ireland, an independent review has been launched into three prosecution cases linked to the allegations of Máiria Cahill, the west Belfast woman who claims she was raped by an IRA member.
It is not expected to be completed until at least next spring.
Stormont's justice committee has also agreed to hold an inquiry into public confidence in the criminal justice system over the handling of alleged sexual abuse by republicans. It is also expected to take several months.
The potential for a cross-border inquiry was discussed by both justice ministers at a meeting in Dublin last week.
"I have discussed with Minister Fitzgerald how a cross-border inquiry might further strengthen the already good results being achieved, but we are also conscious of investigations already under way, and don't want to cut across those," Mr Ford said.
The Irish justice minister, Ms Fitzgerald, said: "I met with David Ford on Friday and we had a detailed discussion in relation to this.
"We absolutely both emphasised the importance of reporting and that both police forces will respond immediately to information.
"There is already co-operation between our social services both north and south. We did not rule out the possibility of a north-south inquiry. But that would be challenging for legislative and other reasons."
Earlier this month, Sinn Féin's Martin McGuinness suggested a cross-border "process to deal with the issue of support for those who were victims of sexual abuse during the conflict" in a letter to Northern Ireland First Minister Peter Robinson and Irish Prime Minister Enda Kenny,
Mr Adams said Mr Kenny has not yet given a substantial reply to the suggestion.
"The Irish government has instead set aside the needs of all victims, opted to brief the media and pursue a selective party political approach to dealing with the issue of abuse," he said.