Masked gang rob elderly farmers on Tullymoan Road, Clady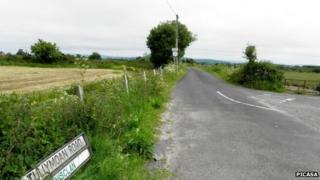 Four people in their 70s, 80s and 90s, have been robbed at a farm in Clady, County Tyrone.
Just before 18:00 GMT on Monday, four masked men forced a man his 70s to the ground in the farmyard on Tullymoan Road. The victim suffered a minor injury.
They then entered the farm armed with a grape hoe they had picked up.
They threatened three other elderly residents and ransacked the property before taking a small amount of cash.
They escaped in a black car in the direction of Clady.
The four elderly victims were left badly shaken by the ordeal.
The robbers were all dressed in black and wore balaclavas.
Det Sgt Brian Reid said: "I appeal to anyone who noticed any suspicious activity in the Tullymoan Road area or noticed a black car acting suspiciously in the area today or over the weekend to contact CID in Strabane on the non-emergency number 101."