Ed Miliband gives backing to Labour Party commission on Northern Ireland economy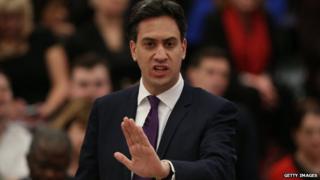 Labour leader Ed Miliband has said people in Northern Ireland "deserve to have an equal stake in prosperity" and opportunities "to shape their lives for the better".
He was speaking as the party unveiled an independent commission.
It will examine the Northern Ireland economy and investigate benefits and low pay.
It will be chaired by leading academic Deirdre Heenan and advertising executive Colin Anderson.
They will be supported by experts and will release a report in February.
Labour said their recommendations would help form their policies should they win next year's general election.
Mr Miliband said "tackling inequality is at the heart of Labour's agenda for the whole of the UK".
"The Heenan-Anderson Commission will look comprehensively at ways to improve opportunities for the most disadvantaged communities in Northern Ireland," he added.
The commission was announced in September at the Labour party conference by the shadow secretary of state Ivan Lewis.
"The commission is a groundbreaking attempt to tackle inequality in Northern Ireland," he told the BBC.
"Focused on the implications of a rebalanced economy where there will be a much greater equilibrium between public and private sectors."
He added: "The Heenan/Anderson commission will report in the spring and help to frame the priorities for an incoming Labour government.
"We will use the findings to consider how the economic pact between the Westminster government and Northern Ireland Executive can be developed to have a sharper focus on reducing inequality.
"At the heart of the next stage of Northern Ireland's journey from conflict to a shared future must be a relentless focus on inequality.
"I am optimistic that the Heenan/Anderson commission will play an important part in identifying the policies which will make the greatest difference and ensure the vast majority of people in Northern Ireland feel they have a stake in a better future."
A Conservative Party spokesman said: "Labour has no long-term economic plan for Northern Ireland.
"With just six months to go to a general election, all Ed Miliband has to offer is yet another policy commission. This a clear admission of failure.
"Even the co-chair of that commission, Deirdre Heenan, has tweeted that 'the key issue for Labour is a lack of distinct policies'."
'People in Northern Ireland will rightly be sceptical about a Labour party that five years ago brought the UK to the brink of financial and economic collapse and left us with the largest income inequality between the rich and poor in modern times.