Dissidents not in control of wing at Maghaberry: David Ford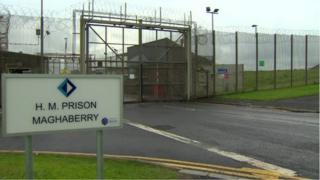 David Ford has rejected a claim that dissident republicans are being given control of their wing in Maghaberry Prison.
The justice minister's comments came as the assembly passed a motion condemning threats against prison officers.
Tensions between republicans and the prison authorities are not new.
Just over four years ago, the prison service and dissidents in Maghaberry signed up to an agreement aimed at reducing those tensions.
A report by independent assessors has said both sides failed to implement it.
Last week, the head of the prison service in Northern Ireland, Sue McAllister, said it would review the use of strip-searching and relax controls on the movement of dissident republicans, but only if threats against staff ended.
'Weak and capitulating'
Justice committee chairman Paul Givan said on Tuesday he had been told by prison officers that the threats have continued.
He proposed a motion condemning the threats, and criticised the approach taken by the prison service and the justice minister, Mr Ford.
"It's clear to me, it's clear to the prison officers I speak to, that what we have is a weak and capitulating minister of justice," Mr Givan said.
"What we have is a weak and capitulating director general of the prison service.
"What we have is a repetition of the same tactics that were implemented by the Provisional IRA, carried through to dissident republicans and they're being conceded to."
The minister supported the motion, but rejected the criticism.
"The prison service is not going to relinquish control of any part of any prison to those held in custody," Mr Ford said.
"It hasn't happened, it's not being recommended by the assessors and it will not happen."
The assembly passed the motion, which also called on the minister to reject any proposal that could compromise the safety of staff, or concede to the demands of the prisoners.