Taggarts claim Ulster Bank should have warned firm before property crash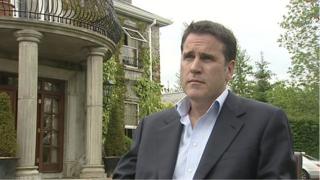 A former developer who was once one of Ireland's richest men has told a court he would have sold assets if his bank had warned him of fears for his firm.
Michael Taggart and his brother John once ran the Taggart Group, which was decimated by the 2007 property crash.
The brothers are now involved in a legal battle with the Ulster Bank.
Mr Taggart claims its negligence and improper conduct contributed to the destruction of his business empire, but he is being counter-sued by the bank.
'Personal guarantees'
The Taggart Group was once one of Northern Ireland's largest companies, with operations in England and the Republic of Ireland.
The firm went into administration in 2008.
The brothers are seeking tens of millions of pounds in damages from Ulster Bank, alleging that bank staff failed to properly warn them of concerns about the financial status of their property development business at the time.
The Taggarts' lawyers told the court that had they known of any unease in 2007, they had plenty of assets that could have been sold to offset loans.
In a counter claim, the bank has lodged writs for £5m and 4.3m euros (£3.4m) it alleges the brothers owe in personal guarantees over land purchases in Kinsealy, County Dublin, and in Northern Ireland.
'Declined investment'
The case opened on Monday and has already heard how the brothers built up huge profits for their business in up to 40 site purchase and sell-on deals.
Giving evidence for a second day on Tuesday, Michael Taggart told the court he had declined an investment offer from equity fund representatives in April 2007, and said it was just one of several offers from potential investors.
His barrister asked him whether he would have reached the same decision if he had been put under pressure or told about Ulster Bank's serious concerns.
"We would have taken a completely different view and we would have fast-tracked this opportunity along with various other opportunities," Mr Taggart said.
He added that he would also have considered "numerous" other asset sales at that time, including refinancing his firm's Manchester operation.
'Cash surplus'
Earlier in the hearing, the court was told about three major joint-venture acquisitions between the Taggart Group and a stockbrokerage, all involving other banks.
One of them was for the Millmount site in Dundonald, just outside east Belfast, bought for £96m in 2007.
Asked if he would have gone ahead with the purchase had he known of the Ulster Bank's concerns, Mr Taggart replied: "Absolutely not, my lord."
He said up to £40m equity from the Millmount development could have been diverted into the Taggart Group.
A substantial cash surplus would have been available if the bank's views on the Taggart Group were known, he claimed.
The hearing is expected to last up to three weeks.