Taggart 'was not warned' before cheques for more than £300,000 bounced, court hears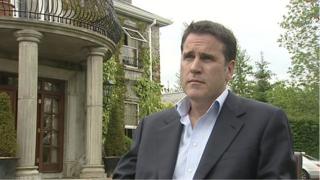 A former developer who was once one of Ireland's richest men has told the High Court he was never warned before company cheques for more than £300,000 were bounced.
Michael Taggart and his brother John once ran the Taggart Group, which was decimated by the 2007 property crash.
They are now involved in a legal battle with the Ulster Bank.
Michael Taggart said crucial internal bank correspondence was not disclosed to him.
Mr Taggart claims Ulster Bank's negligence and improper conduct contributed to the destruction of his business empire, but he is being counter-sued by the bank.
The Taggart Group was once one of Northern Ireland's largest companies, with operations in England and the Republic of Ireland.
The firm went into administration in 2008.
The brothers are seeking tens of millions of pounds in damages from Ulster Bank, alleging that bank staff failed to properly warn them of concerns about the financial status of their property development business at the time.
The Taggarts' lawyers have told the court that had they known of any unease in 2007, they had plenty of assets that could have been sold to offset loans.
In a counter claim, the bank has lodged writs for £5m and 4.3m euros (£3.4m) it alleges the brothers owe in personal guarantees over land purchases in Kinsealy, County Dublin, and in Northern Ireland.
Overdraft
The case opened on Monday and has already heard how the brothers built up huge profits for their business in up to 40 site purchase and sell-on deals.
During day three of the case on Wednesday, a counsel for the Taggarts examined emails and documentation from 2007.
With the company overdraft running at around £2m by June of that year, the court heard details about the planned disposal of a housing site near Manchester for around £900,000 profit.
Asked how he would react if the bank suggested this was an urgent sale due to awareness of its concerns, Mr Taggart replied: "That is incorrect."
Internal bank correspondence spelling out how it was coming close to having to return Taggart cheques was never disclosed to him, he said.
"I have not seen any documents relating to this matter," he said.
During that month two cheques for £165,000 and £150,000 were stopped.
The court heard how a handwritten note, apparently from a senior bank official, requested: "Please ask... to ensure the two cheques are bounced."
According to counsel for the Taggarts, the decision was taken at the end of May, but only carried out a week later.
"Did anyone contact you and say they were contemplating this draconian sanction?" he asked his client.
Mr Taggart responded: "No, not at any time."
Setting out how the company's head of finance would have reacted at the time to any warning, he added: "He would have contacted the stakeholders, owners, directors and everyone connected immediately."
By July 2007, the Republic of Ireland's housing market was reported to be already in decline, the court heard.
However, Mr Taggart recalled property prices still being strong in Northern Ireland and England at that time.
Asked whether he could have disposed of assets there if required, he told the court: "Absolutely, no difficulty using any one of a number of methods."
The hearing continues.