John Holmes jailed for killing Stanley McAuley in Belfast alleyway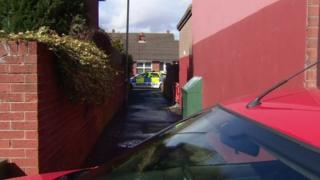 A man who admitted killing a father of three in east Belfast has been given a six-year jail sentence.
The victim, Stanley McAuley, 41, died after a drunken fight in an alleyway at Chamberlain Street in April 2013.
John Holmes, 33, of Egeria Street, will serve three years in prison and a further three years on supervised licence upon his release.
The judge said it was "by no means a one-punch case" as Mr McAuley's injuries indicated a sustained attack.
'Highly intoxicated'
Belfast Magistrates Court heard how the two men had both been drinking in the East Belfast Working Man's Club, with various witnesses describing "tension" between them.
CCTV footage from the club also confirmed that Mr McAuley had approached Holmes more than once in an antagonistic manner.
In the early hours of 14 April 2013, Holmes left the club and was walking along Chamberlain Street followed by Mr McAuley.
A fight then broke out between the two men, who were both described by the judge as "highly intoxicated."
Witnesses to the fight reported seeing Mr McAuley being attacked by Holmes as he lay on the ground.
Holmes presented himself at a police station in the hours following the fight, and when he was interviewed the next day, he said he had acted in self defence, and also expressed remorse for the death.
He subsequently pleaded guilty to a charge of manslaughter.
Bloodstained clothing
Holmes was handed an additional three-month sentence after the judge activated a suspended sentence imposed a month before the fatal fight, for an assault in a fast food restaurant.
Another man was given a nine-month prison sentence for perverting the course of justice.
The court heard Alan Wilton, 49, of Lord Street, had helped to dispose of clothing worn by his daughter, who was in the club on the night and also witnessed the fight.
Chanel Wilton, 22, of Dunraven Court, saw Holmes attacking Mr McAuley as he lay on the ground, intervened and tried to stop the incident without success and sustained minor injuries and bloodstained clothing in the process.
Wilton went on holiday that day, and when he was contacted by police, he told the officer: "You think you are a big man. I will see you when I get home."
The judge told Wilton that instead of acting as a responsible parent, he tried to obstruct the police investigation.
"I hope you will come to see the harm you have caused to her by your high-handed and arrogant behaviour," he said.
Miss Wilton has appeared at previous court hearings, but she was excused from attending on Wednesday as she is in hospital.
She was given a 12-month conditional discharge.