Historical Institutional Abuse: Boy's gang rape testimony 'fabricated'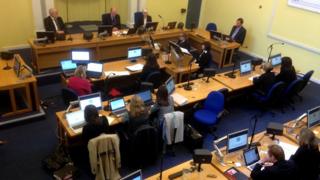 Police deemed rape allegations against a number of religious brothers at Rubane boys' home County Down were "fabricated", an inquiry has heard.
A former member of the De La Salle Order has been giving evidence at the Historical Institutional Abuse Inquiry.
A boy had accused him of being taking part in a "gang rape" in the 1990s.
But counsel to the inquiry said that police regarded the claim as "not believable enough" to question him about.
He said a superintendent had concluded that the complaints made against the former brother were fabricated.
The Director of Public Prosecutions (DPP) directed there should be no prosecution.
The witness, who has also denied other claims of sexual and physical abuse, said the past 20 years of his life had been "controlled" by unfounded allegations.
He has been interviewed by police seven times since 1995. However, he has never been charged with any offence.
Background
The HIA inquiry was set up in 2013 to investigate child abuse in residential institutions in Northern Ireland over a 73-year period, up to 1995.
A total of 13 Northern Ireland institutions are being investigated.
The inquiry is currently examining alleged abuse at Rubane.
About 200 former residents have made allegations of abuse.
A total of 55 former residents have come forward to the inquiry to allege that they were physically or sexually abused.