Caterpillar: Union says engineering firm plans 140 job cuts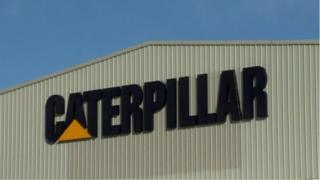 The US engineering firm Caterpillar is planning to cut 140 jobs across its Northern Ireland operations, according to a trade union.
The Unite union said the job losses will affect 65 employees and 75 agency workers in manufacturing roles.
The firm employs about 2,000 people across its County Antrim plants at Larne, west Belfast and Monkstown.
The company confirmed it is seeking 65 voluntary staff redundancies but has not yet commented on agency workers.
'Appropriate measures'
In a statement, a spokesperson for Caterpillar said: "Current weaknesses in the economies of some key markets are impacting on demand for some of our products.
"The company is therefore taking appropriate measures during this time to help ensure the competitiveness of the business.
"We will continue to closely monitor the economic environment and will continue to communicate with employees."
'Very disappointed'
Unite's regional co-ordinating officer, Davy Thompson called for a "proactive response" from Stormont politicians.
"We are very disappointed by these job-losses which will affect workers across the company's three production sites in Larne, Monkstown and Springvale.
"The timing of this announcement is particularly difficult for the workforce coming in the mouth of Christmas," Mr Thompson added.
"Unite is committed to securing the very best possible terms for all our members affected by this decision."
The US firm bought one of Northern Ireland's most famous manufacturing companies, FG Wilson, in 1999 and last year it renamed the County Antrim firm as Caterpillar (Northern Ireland).
In September 2012, the firm cut more than 700 jobs as it moved some manufacturing to China.
It later added about 200 jobs in a "shared services centre" which provides back-office support for Caterpillar's global operations.