Peter and Iris Robinson probe: Committee report due to be published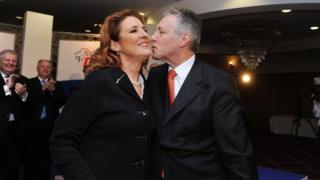 Stormont's Standards and Privileges Committee is expected to publish a report on the conduct of First Minister Peter Robinson and his wife Iris later.
The report concerns issues raised in a BBC Spotlight programme four years ago.
It revealed Iris Robinson's financial and personal relationship with a 19-year-old businessman.
It is understood the standards commissioner has concluded that Mr Robinson did not breach the assembly code of conduct.
However, sources said Mrs Robinson has been found to have broken a Stormont rule.
The Spotlight programme of January 2010, revealed Mrs Robinson's dealings with her teenage lover Kirk McCambley, including obtaining £50,000 from two property developers in order to help Mr McCambley secure a tender for a south Belfast café, the Lock Keeper's Inn.
The standards commissioner Douglas Bain completed his report in November last year, but its publication was delayed after a lawyer acting for Mrs Robinson was concerned that some material might infringe his client's privacy and have a negative impact on her health.