Department for Regional Development says rail and bus fare increases 'cannot be ruled out'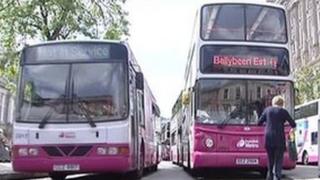 Rail and bus fare increases above the rate of inflation "cannot be ruled out" as a result of proposed budget cuts at the Department for Regional Development (DRD).
It has published its draft budget for next year, containing savings of £65m, that may involve up to 300 job losses.
The required savings would have a knock-on effect in its funding for Translink.
Some public transport services could be affected.
"Service reductions would be expected to focus on the least profitable routes, including the complete withdrawal of services from a number of towns," the budget paper states.
There would also be reduced timetables to some bus and rail services.
Both Translink and Northern Ireland Water, also funded through DRD, may also need to cut jobs.
The budget paper also states that consideration would have to be given to disconnecting street lights and halting repairs to rural roads.
Gritting and snow ploughing of all roads may need to stop next winter.
This, the paper states, could "significantly reduce" the response times of emergency services.
The paper says that the department has asked Northern Ireland Water "to plan to manage within its existing baseline of £99.2m" and that the company's options are limited due to running costs including long-term contractual commitments and energy requirements.
It adds that Northern Ireland Water has indicated "that if their baseline remains at £99.2m, cuts would be needed right across their service".
Regional Development Minister, Danny Kennedy, asked the public to respond to a consultation on the impact of the 2015/16 draft budget.
"This consultation document outlines the measures that I have no choice but to make in order to meet the proposed budget reductions decided by the executive," he said.
"As the executive draft stands, the public will feel the pain of the service reductions on essential frontline roads, water and public transport services."
On Wednesday, Finance Minister Simon Hamilton spoke of "considerable" job losses in the public sector, but could not put an exact figure on cuts through voluntary redundancy.
He said the "fine detail" of proposals was being finalised and due to go before the Northern Ireland Executive shortly.
Previously, Mr Hamilton has said Stormont's 2015/16 budget is "rooted in tough choices".