£65m worth of carers' allowance going unclaimed says charity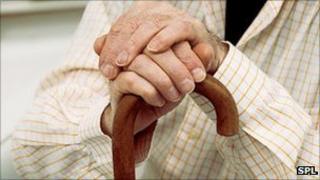 More than 21,000 carers in Northern Ireland miss out on nearly £65m worth of unclaimed carers' allowance, a report has found.
The research was carried out by Carers NI, a charity that supports carers, and the Northern Ireland Human Rights Commission (NIHRC).
They said there are at least 214,000 people in Northern Ireland caring for elderly or disabled family members.
The charity also said around 70,000 new people become carers every year.
Helen Ferguson from Carers NI said people who care for family members should use all of the available support.
'Carer's charter'
She said: "We know that resources are tight, we know that there aren't huge amounts of services for everybody who is providing care for a family member or friend, but there is support out there.
"There are day care centres, there are respite opportunities, there are direct payments that allow you to arrange your own support in a way that works for you and your family - there's help out there."
The NIHRC chief commissioner, Les Allamby, said the organisation has called for a charter to protect the rights of carers.
"Human rights can ensure public services and policies that properly recognise, identify and support carers," he said.
"This report considers how government has fulfilled its obligation towards carers and looks at the impact of proposed reforms.
"It makes practical recommendations needed to improve the level of support provided to carers in Northern Ireland."