Collegiate Grammar/Portora Royal closures get go-ahead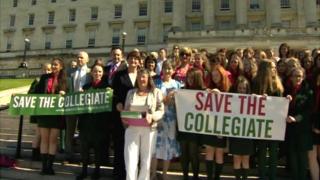 Education Minister John O'Dowd has approved plans to close Portora Royal School and the Collegiate grammar school in Enniskillen.
They will be replaced by a new amalgamated school.
The minister said he was focusing on the needs of children and young people, not on the institutions.
A petition against the plans, which was signed by 7,000 people, called on the education minister to seek consensus on the future of the schools.
Elizabeth Armstrong, the principal of Collegiate Grammar School, said it was a "matter of grave concern and deep disappointment" that the minister was closing the school
"We have consistently called on the minister to reject these controversial proposals which have caused significant division in the community," she said.
"This is by no means over and we will explore all possible options to overturn this decision."
However, a statement from the board of governors of Portora Royal welcomed the fact the merger would go ahead.
"The governors of Portora Royal School welcome the minister's approval of the development proposals and remain convinced that the decision will benefit all pupils in the controlled and voluntary sectors in Fermanagh while securing sustainable grammar school education in the county," they said.
'Dismayed'
Education Minister John O'Dowd said: "My vision for education here is that all our young people have the opportunity to reach their full potential and are encouraged to do so, regardless of which sector they attend.
"I recognise that the establishment of a new school will mean that two long-established schools will discontinue," he said.
"However these proposals put the needs of the pupils first in determining the future of post-primary school provision in Fermanagh, rather than the needs of individual institutions."
Enterprise minister and DUP MLA for the area Arlene Foster has said she is disappointed at the minister's decision.
"I am dismayed that the education minister has chosen to disregard the strength of community feeling and agreed to the closure of two high-performing schools," she said.
"It is perhaps not surprising, however, that a Sinn Fein minister has chosen to close two grammar schools.
"The Western Board and the minister have ignored public opinion and have chosen to play schools off against each other. Those who backed the proposals may find that they have been sold short by John O'Dowd in the future."