Nuala Gormley convicted over explosives found in boot of car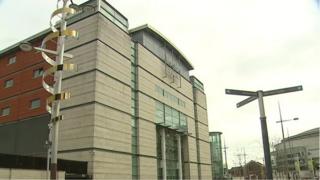 A woman who was caught with explosive substances in the boot of her car has been found guilty of possessing articles for use in terrorism.
Nuala Gormley, from Morgan Park, Dromore, County Tyrone, was arrested after police searched her car near Cookstown on 6 August 2013.
Officers found explosive substances and remote signalling equipment hidden in an oil container wrapped up in netting.
The 38-year-old was told she will be sentenced on 22 December.
'Circumstantial'
Gormley had originally been charged with three offences, but the judge at Belfast Crown Court acquitted her of possession of explosives with intent to endanger life or cause damage to property or enabling some other person to do so.
She was also found not guilty of possession of explosives in suspicious circumstances.
The judge acknowledged that the case against Gormley was "circumstantial" and that there was no forensic evidence to connect her to the items found in her boot.
However, he said the court could draw inference from the fact she did not give evidence at her trial.
Had she done so, the judge said, she would have been able to answer questions such as when she last looked in her boot, whether she saw the oil container in her boot and who she knew who would be likely to place such items in her car.
'Frequently drunk'
During the trial, it emerged that she had issues with alcohol and was known to be careless with her home security and possessions such as her car keys.
Her defence team made the case that she was someone who could have been taken advantage of and used by others.
Gormley's sister gave evidence, and revealed her sister was frequently drunk.
Her brother-in-law told her trial that on one occasion he called at her house and discovered someone sleeping in her car.
This carelessness, the defence said, could have allowed other people not before the court to have access to her vehicle without her knowledge.
Regarding the first two explosives charges, the judge ruled that he could not be satisfied beyond reasonable doubt that Gormley knew the items in her boot were explosives and he therefore returned not guilty verdicts.
However, he said he was satisfied that Gormley possessed the items in the boot and that she was aware they were "related to terrorism".