Jim Allister: Stormont executive will collapse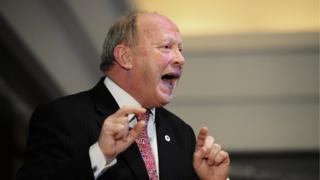 Traditional Unionist Voice Jim Allister has said he expects the Stormont Executive to collapse.
Mr Allister was speaking at his party's annual conference, held near Kells in County Antrim.
He said a love of power was "the only glue" holding the executive parties together.
He said that glue would one day dry out and give way to the inevitable collapse of a system that could never have democratic accountability.
"Of course, it is TUV's mission to hasten that day, put it out of its misery and the sooner the better," he said.