Northern Ireland Executive departments' budget plans in focus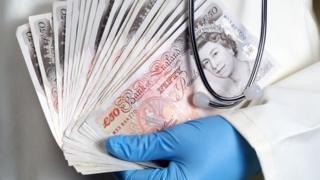 Northern Ireland's Executive ministers have been laying out plans for how their departments will deal with spending cuts in the 2015/16 budget.
BBC NI Economics and Business Editor John Campbell has a closer look at the plans.
Health
Health consumes almost half of the executive's budget. Its spending is being protected and will continue to rise.
However, the department's budget plan says it still has growing funding pressures from an ageing population, new treatments and patient expectations.
It has identified savings of £260m but says that still leaves a "funding gap" of £160m.
Tackling this is likely to mean that waiting lists will continue to rise, the number of hospital beds will be cut and there will be a further reduction in the number of staff filling in behind those who are off sick.
Education
Education's budget submission also identifies a "funding gap" of £160m. Among the cuts proposed are reductions in spending on pre-school education and Sure Start, IT services, school maintenance and community relations schemes.
A healthy eating programme that costs around £5m a year could be ended entirely.
More than 75% of the education budget is spent directly on salary-related costs and the department has warned there will be implications for jobs.
The Irish National Teachers' Organisation (INTO) estimates that up to 2,000 teachers could ultimately be made redundant.
Regional Development
This department looks after public transport and has warned that rail and bus fares may have to increase above the rate of inflation and that some routes could be cut.
The budget paper also states that consideration would have to be given to disconnecting street lights and halting repairs to rural roads.
Gritting and snow ploughing roads may also be affected.
The department also says that up to 300 jobs could go.
Social Development
The Department for Social Development has it will need to cut at least 300 jobs from the Housing Executive next year as a result of budget pressures.
Senior officials also told a Stormont committee that 350 jobs will also need to be cut from the Social Security Agency.
The department said it hoped to make the job losses through voluntary redundancies.
Environment
A scheme that pays up to £1,000 to households hit by flooding will be axed under this department's plan.
It will also dramatically scale back its spending on road safety advertising and education.
Funding to local councils and a range of environment and conservation groups will also be hit.
As many as 500 staff could go - a third of the department's workforce.
Justice
There is a bottom line cut of 6% for all Department of Justice activities.
However, some funding that goes to the PSNI for anti-terror activities cannot be redistributed across other areas.
That means that the average cut across all activities is close to 9%.
The decision has been made to heavily cut so-called "core directorates" which is mainly back office work.
These directorates are facing a cut of almost 22% which I understand is equivalent to 400 jobs.
Agriculture
Savings in this department focus on job cuts, with 300 redundancies likely.
No new commitments will be funded under the Rural Development Programme.
Research projects will be reassessed to focus on those likely to deliver the greatest short-term gain for the industry.
Fewer individual inspections will be carried out as part of monitoring of Common Agricultural Policy (CAP) spending,
Culture, Arts and Leisure
Grants for arts groups, distributed by the Arts Council, will be cut which may lead to the closures of some organisations.
Libraries will have to cut opening hours and spending on books.
Museums may also need to cut opening hours as well as reducing the number of events and exhibitions.
Grants for sporting organisations in the areas of performance sport, coaching and club/governing body development also face cuts.
Enterprise, Trade and Investment
Like health, this department's budget is protected - but that is largely to do with making money available for job creation grants which have already been promised to companies.
Invest NI, the department's biggest area of spending, may have to run fewer trade missions and exhibitions and scale back or end some programmes.
It may also have to withdraw support for smaller local firms and concentrate on larger companies.
The NI Tourist Board, which is also funded by this department, may have to stop advertising in either the Republic of Ireland or Northern Ireland and scale back its digital and social media plans.