Dundonald Ice Bowl: Refurbishment plan is put on hold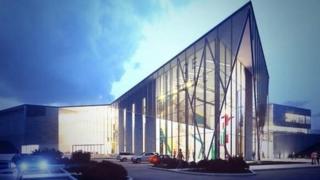 Plans for the redevelopment of Dundonald Ice Bowl have been put on hold following a decision by the shadow council for the new Lisburn City and Castlereagh District Council.
An application had been made to rebuild the ice rink and bowling alley on the outskirts of Belfast.
Castlereagh Council submitted a planning application to replace it with a new complex.
The Ice Bowl opened in 1986 and has around 600,000 visitors every year.
Papers lodged with the application stated the new building would be a "flagship development", with updated facilities including an "Olympic standard" ice rink.
The demolition of the existing ice bowl would be phased and, when completed, would also include an NHS health and well-being centre.
'Challenging times'
Castlereagh District Council said in a statement that a decision had been made by the shadow council for the new Lisburn City and Castlereagh District Council "not to proceed with the proposed plans to redevelop Dundonald International Ice Bowl in its current design, at this point in time".
"Local government is currently undergoing unprecedented reform which will take effect from 1 April 2015," it added.
"Consequently, Lisburn and Castlereagh District Council is currently considering the associated costs of delivering and sustaining all the required services, projects and programmes for the new council area.
"Consideration must therefore be given to developing a prudent, affordable and sustainable financial model for the council during these challenging times."
Castlereagh District Council said that the shadow council had confirmed that "upgrading or the redevelopment of Dundonald International Ice Bowl would still be included in discussions regarding capital budgets for the new council and ongoing investigations into potential European funding for the project".
It said that to date, "Castlereagh Borough Council has spent £1,219,291 on planning and architectural fees during the course of the project".
When it first unveiled its proposal earlier this year, the council predicted the new complex would be finished by 2017.