Lacrosse returns to Newtownards more than a century after first team began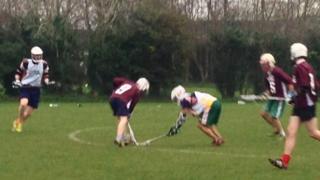 The Canadian sport of lacrosse has made a return to Newtownards more than a century after Ireland's first ever team was formed there in 1872.
Teams like the Dublin Avengers, Dublin Bay Prawns, as well as teams from Galway and Queen's University took part in the Newtownards Cup at the Dairy Hill playing fields in memory of where it all started.
Lacrosse is called "the fastest sport on two feet," although that is something that many Irish hurlers would debate.
Resembling a sort of cross between American football and hockey, players use a stick with a small net to carry and throw the ball at speeds of up to 100mph.
It is also not for the faint hearted being a full contact sport with players allowed to barge into their opponents and hit them on the body and hands with their sticks - these days, players wear helmets and body armour.
The Ards lacrosse team was founded in 1872 after Canadian teams like Shamrock Lacrosse from Montreal travelled to Ireland for exhibition games.
Michael Kennedy, chief executive of Lacrosse Ireland and a player with the Dublin Avengers, helped start the Newtownards Cup.
"Lacrosse itself is a native American Indian sport, that's where it comes from and they would have played with traditional wooden sticks," he said.
"Even before the Newtownards team was formed in 1872, there were teams established in Canada and they travelled over to play exhibition games so they played all over Northern Ireland, Dublin and as part of that trip, there was even an exhibition put on for Queen Victoria.
"At the time, part of the reason for that was a way of recruiting emigrants to come to Canada and it was a way of putting on a display of Canadian culture to try to recruit people to emigrate to Canada.
"But, in return, they were introducing the game of Lacrosse to people throughout the British Isles."
Today, there are around five lacrosse teams in Ireland, as well as a national team.
Queen's University have also recently formed their own team, currently the sole team in Northern Ireland.
Perhaps one of the main attraction for students taking part in lacrosse is that while the sport is re-establishing itself - there is every chance you could make the national team.